"We have to face difficulties to find out what our true strengths are. How we come back from a failure is a very valuable test."

– Insatiable, Meg Cabot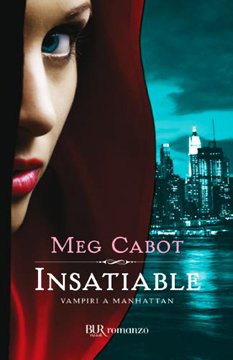 Insatiable by Meg Cabot is a modern retelling of Dracula. Meena is a soap opera writer with a special gift – she can predict when and how someone is going to die. Although facing supernatural powers in her everyday life, she does not believe in the other supernatural beings – especially not Vampires! In fact she hates vampires. But when she meets the mysterious Lucien Antonescu, Romanian nobility, she may have to reconsider everything.
Did I like this book? Of course I did! It's Meg Cabot for goodness' sake! Mediator is one of my favourite book series, and I was eager to read another supernatural romance by Cabot. I think Cabot really has a talent. By the end of the book, I was rooting for Lucien and Meena to be together, even though, like Meena, I find the idea of vampires kind of repulsive. (I like to read about them, but I would not like them if they were real…) I mean, he bit Meena even after she specifically said, "No biting". And after the meeting, I could see he loved her but at the same time he was a very violent creature and would mean trouble for Meena. Despite all of this, whilst I was reading I was upset with Meena for not just running away with Lucien. That is what some good writing does – gets you to go against your beliefs and fall in love with whatever the author wants.
It's not really that different to other vampire books. In fact, the main character isn't as lovable and strong as Rose in Mead's Vampire Academy. But if you are into this dark fantasy genre, Insatiable is definitely a book to read. It's not very long, so it's quick and easy to read.
The book is categorized as an 'adult fiction'. However, I do think it's more of a young adult novel. I haven't read many adult fantasy books, but I don't find that Insatiable is too different from any other vampire YA books. The language isn't any harder, the plot isn't too complex and even the themes aren't too heavy. The only thing is that the main character is older - she's in her 30s (Actually, I don't know her age, but she is definitely not a teenager.). But the beauty of books is that you can imagine the character however you want – I imagine Meena and Lucien a bit younger. Just so that I can relate to their relationship.
Insatiable is a good book, a bit simple, but definitely interesting. I can't wait to read Overbite!