"Knowledge is valuable, but imagination is invaluable." – James Patterson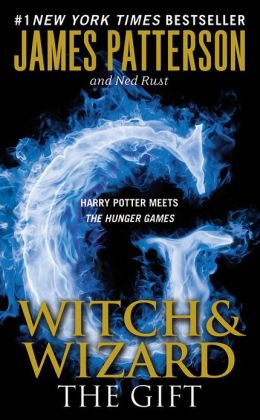 Witch & Wizard by James Patterson is a fantasy series that depicts the persecution of two magical siblings by the new totalitarian government, 'New Order'. The Gift is the second instalment and it follows Whit and Wisty Allgood as they figure out how to better control and use their magic while trying to save everyone endangered – their parents, Whit's girlfriend and all the brainwashed children. Meanwhile, the tyrannical leader is on the hunt for the Allgood siblings in order to take their gifts and be able to control everything and everyone.
I received this book as a gift and I've really enjoyed reading it. I can't wait to read the next book, to figure out all the cryptic clues. However, I do feel that The Gift went in a circle; I don't really know more than I what I got from the first few pages. It seemed that Patterson was trying too hard to extend the plot so that it could become a lengthy series; at one point, the plot became Whit and Wisty running away, then getting caught by the villain then escaping then getting caught – and it just wasn't going anywhere! Really, none of the answers proposed at the beginning were answered. Maybe, this was because I skipped the first book and went straight into the second; the lack of background information could have hindered my immersion into the story. However, I don't think this was too big of a problem as I didn't even realise this was the second book until I started writing this post. Patterson managed to catch all the readers up to the full story quite easily, as there were so many references to the past, which I'm assuming mostly happened in the first book.